for the better part of my twenties, the only relevance that the word circuit had to my life involved synapses, neurotransmitters, and connectivity between neural regions. however, in recent weeks i've discovered a new kind of circuit that excites me very much – the WSOP circuit events!



as i've mentioned in the past, my goal in poker is, eventually, to be among the best and most profitable in the game.* to explain to the non-poker folks: the world series of poker (WSOP), which takes place every summer in las vegas, is basically the biggest deal in poker. every professional tournament player makes success at the WSOP their main priority. however, for the rest of the year, the WSOP also puts on these regional circuit events at casinos all around the country, which last two or three weeks apiece. in the actual WSOP, tournament winners receive a bracelet; in the circuit events, the winners receive a ring – hence certain events are termed "ring events." the buy-ins for the tournaments range from $100-200 for the non-ring events, which are 1-day and have a pretty quick (i.e. crappy) structure, much like your average nightly at a card club or casino. the ring events are generally two-day, with a very nice structure, and run between $350-550 for the buy-in. and then there is always a main event, the biggest one with the best structure, often 3-day, and is around a $1500 buy-in (and is also a ring event).
*(aside: i don't think i can become the best, for the simple reason that i was introduced to poker late in my life as compared with the majority of successful players. the 21 year olds who are owning the poker world these days have been playing online since they were 14, throughout critical stages of learning and development. their growing brains have adapted to efficiently process and analyze information related to poker, in the same way as a pianist who has been playing from a young age develops larger areas of cortex devoted to the sensory input from his fingers. but i have to work with the situation i've been given, and i think i'm a pretty quick learner. i am pleased with the amount of progress i've made over the past year, and i continue to learn and figure out new things each time i play).
despite my horrifying lack of success in live poker tournaments, i decided that it would be fun to check out the circuit event in lake tahoe in november. at first i'd only planned to play the ladies' event, which was a $120 non-ring event (though the winner gets a pendant which is kinda cool). but looking over the schedule and the structure sheets, i realized that i really ought to play a ring event. for months i had been dying to play a live tournament with a good deep structure, and the beautiful structure sheet for the $345 ring events basically seduced me into it. my plan was to take a stab at a ring event that started on a friday, and if i didn't make it to the second day, then i could still play the ladies event that saturday.

i got to harveys lake tahoe on thursday evening, and decided to check out the live games going on in the poker room. i wanted to make sure my observation powers were sharp for the tournament, but more importantly i wanted to get comfortable with the environment before the event. little things – becoming familiar with the layout of the table numbers, finding where the closest bathrooms are, or figuring out the quickest route to the coffee stand – go a long way to setting me at ease in an unfamiliar poker setting. i sat at a pretty nitty $2/3 no limit table for a couple hours and spewed through a little bit of money, but i wasn't really worried about it because it was productive for me to spend that time in the poker area and get comfortable in my surroundings.

11/19 ring event
my first event, the $345 ring event, started at noon and drew 318 entrants. my table wasn't tricky by any means, but there were a few active and aggressive players. for the first few levels i think i let the deep-stacked structure give me a false sense of security; i mean, we started with 400 big blinds for gods sake! so i was messing around with a lot of suited connectors and gappers, but was not hitting flops with them and was slowly bleeding chips. i actually don't think i won a single hand in the first two hours. by the first break at 2pm i had spewed about 1/3 of my 10,000 starting stack. i realized it was getting too costly to splash around with speculative hands, so i tightened up and decided wait for good spots to double/pick up a lot of chips with solid holdings. this strategy worked pretty well, and by around 4pm i had won a couple large pots and finally managed to get above starting stack for the first time all day. when we resumed after the second break i had about 12,000 chips going into the 200/400 (ante 50) level.

for a little while nothing was doing. the stack sizes were starting to get more varied and people were starting to get short and push, and as usual i wasn't picking up hands. i was down to a little under 20 bb when a slightly shorter stack pushed all in, and it folded to me in the big blind with AQ. that hand isn't stellar, but i knew i was only in terrible shape against four hands: AA, KK, QQ, and AK. and a short stack's shoving range is obviously plenty wider than that. i suspected i was probably flipping, and early in tournaments i try to avoid those kind of situations, but by then i was pretty short myself, and decided i needed to go with it. i called and found myself up against pocket 6s. unfortunately, i lost the flip, and as i barely had the other guy covered i was left with something like 3bb. and that would spell the end; i couldn't pull off a comeback and was eliminated a couple hands later.

i was obviously disappointed not to cash in the tournament, but overall i was happy with how i played and felt i took appropriate advantage of the situations i was given throughout the day. i went up to the bar on the top floor of the hotel overlooking lake tahoe and had a leisurely dinner and a couple of espresso martinis, and then went back downstairs to see what was doing at the cash games. it was a friday night so the poker room was hopping, and i sat down again at the $2/3 no limit, but took better care to pick a table where it looked like people were gambling. now that i've been playing live for a few months i've come to understand the importance of table selection in cash games, and i conscientiously avoided sitting down with any people who i recognized either from the night before or the tournament that day. tournament regulars are some of the nittiest players in cash games, and as a sooooomewhat nitty player myself, those are the people i do NOT want to be playing ;) playing against tight players is not that fun, and it's not that profitable either. but it seemed like the table i chose had a couple of maniacal types in attendance, and within a few minutes of sitting down i had doubled my buyin of $200. over the course of a couple hours i ran it up to over $700 before cashing out, which was a nice confidence booster. i called it an early night and went back to get a good nights sleep and prepare for the ladies event the next day.

11/20 ladies event
i was pretty excited to play the ladies event – first off, i have heard ladies events are some of the softest tournaments, and in general it's always nice to play against players who are probably worse than you. but i was also just plain excited to play with women; poker is such a male-dominated activity and it's pretty rare to even have another female player at the table, let alone nine other females!

i do believe the public tends to underestimate women in poker, and there are many female players i admire – annette, vanessa selbst, christina lindley, and liv boeree to name a few – who consistently take massive shit down and impress me whenever i see them play. but my starting table at the ladies event basically confirmed every stereotype i have heard about female poker players. passive. weak. tight. limpatrons. calling stations. there were a couple ladies who did seem to know what they were doing, but for the most part these gals were playing like fish – limping around, not understanding appropriate bet sizing and making weird minbets or insane overbets. it was pretty awesome and i was getting a great feel for the table, winning pots, and just feeling good in general. again, i hate to confirm or perpetuate negative stereotypes about women, but this was by far the softest table i had ever played in a live event.

however, the fun was not to last. it was not even an hour into the tournament when i picked up AA in early position. i made a standard raise, and a tight/passive lady behind me who'd won several large pots and had me covered snap shipped her big stack into the middle. loldonkaments! fuck yes! i could barely believe my eyes, which by that point had actually turned into dollar signs. what could be a better situation than to double up my already fairly large stack and take a dominating lead over a field of fishettes? my chips were in the middle faster than you can say "pendant" and i was up against KK – one of the best preflop situations you can ask for in poker. and…… of course the K hits on the turn. sigh! i was incredibly disappointed my hand couldn't hold up there. it always sucks to be eliminated from a tournament early, but it especially sucked to be eliminated from that tournament. i was feeling great about my play and i knew i had a huge skill advantage over the field, and by all rights should have been continuing the day with a huge chip advantage as well. :(

after that gross beat in the ladies event i found myself with a saturday afternoon to kill, and looking over the tournament schedule i realized there were going to be two mega-satellites to the $1600 buy-in main event, which started the next day. i should mention that before i got to lake tahoe, i had absolutely positively NO intention or hope of even trying to play the main event – or even being in town for it, for that matter. i had only booked my hotel room through saturday night and was scheduled to leave on sunday, the day the main event was starting. but a surprise (well, surprise to me anyway, as i am dumb and didn't think of checking the weather in advance) snowstorm that began on friday and ran through the weekend had me firmly snowed in east of the sierra nevadas. cars weren't allowed to travel over the mountains without chains or snow tires, not that i would have wanted to attempt that drive even if i did have such equipment. so after the snow had started i went ahead and extended my reservation through tuesday, which was when the snow was supposed to let up, and fortunately was still able to get the very reasonable $39/night poker rate.

so i'm not superstitious in any way, but this turn of events had started me thinking a little bit. i was now going to be snowed in at lake tahoe for the entire duration of the 3-day main event. i had taken a stupid beat to make an abrupt exit from the last tournament i'd been planning to play, but i was still feeling great about my game. the players i had encountered in general at this event were not that skilled. what if.. i could satellite into the main event?!
11/20 main event mega-satellite

i put my poker face back on and headed downstairs for the 4pm main event mega satellite! i'd never played one of these before, but it was basically a normal MTT with a pretty fast structure. it got somewhere around 100 entrants, and the top 11 spots got main event seats. 12th place also paid about $1k in cash. as soon as i got to my table i realized that it was going to be a serious donkathon! people were messing around with all kinds of silly hands and gambling hard unnecessarily, early in the tournament. i play plenty of satellites online and it was clear that most of the players had no conception of appropriate satellite strategy. which was awesome for me. i basically played straightforward, chipped up, stayed out of trouble, and let other players donk themselves out until we were down to the final 3 tables.

however, pretty soon it was time for me to gambol. i had a pretty large stack at the last 3 tables, but in two unfortunate hands i doubled up two shorter stacks, rendering me a short stack, which is never a fun situation. i hung out and waited for good hands, shoved a little bit, and stayed alive on around 10bb for a while. by the time we were down to two tables, i was still probably the shortest stack. the situation was looking dire, and as the cocktail waitress came around i decided i might as well order a champagne. i will be the first to admit i drink like a fish (and likely play like one, but i can't necessarily blame that on the alcohol) when i play cash games, but i try not to drink too much during tournaments. but, at that point i basically had one move only, and it wasn't going to take advanced brainpower to shove in my pitiful stack with any decent hand. and what do you know – as soon as my champagne arrived, i pushed in with KQ and doubled up!

i continued to shove in good spots and double up when necessary. i definitely ran good – i won several flips at crucial moments, where i would have been eliminated if i'd lost them. it annoys me that so much of poker just boils down to getting lucky and having hands hold in those spots, but i was happy that i finally ran good for once! i played smart, didn't take unnecessary risks once my stack was out of the danger zone, and let others donk out around me as i sipped on my cheap casino champagne. and before long, we were down to 11! i had secured a $1600 main event seat!

i have played something like 20 live tournaments in total, and this was actually my first ever live cash. as much as i wanted to play the main event, i knew it would be foolish from a bankroll standpoint to play a $1600 tournament as opposed to just taking the cash. but luckily that moral dilemma was soon settled for me – the tournament director informed me that the prize was a must-play entry, and i would not be able to take the cash. when i'd entered the satellite i'd assumed that winners could take the cash instead of the seat, since in online satellites you can almost always take the cash unless it explicitly says otherwise. but i wasn't too disappointed to have to play the main event – what an amazing opportunity!

11/20 main event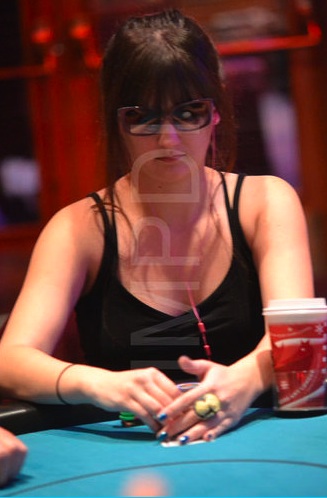 the main event! in total there were 246 entrants, creating a prize pool of over $350,000! the structure was of course excellent, with 40 minute levels, antes beginning the 5th level, and 20k (400bb) in starting chips. when i got to my table for the main event at noon, i resolved to keep my poker face on but was inwardly jumping up and down like an idiot as soon as the cards were in the air! this was a BIG. DEAL. for a noob like me. i was pretty tickled when the photographer would come around to take my picture during hands, or when i saw pokernews reporters getting the inside dirt on the interesting early hands. the main event at the WSOPC! people actually care about this shit!

i was feeling really good, first of all because i had drawn my favorite seat at the table (seat 8 – it's on the corner of the table, so you get a good view of the rest of the players, as well as more elbow room than some of the other table positions). second, the table seemed friendly – there was one guy from my satellite the night before, and the other guys around my end of the table were chatty and nice. i was playing solidly but conservatively, which is my general strategy in deep-stacked events. some people like to mix it up with a lot of suited connectors and random silly hands in early stages of tournaments like this, and i'd tried some of that in my first ring event but it hadn't worked that well for me. i kept to the strategy i'm comfortable with: aggressive play with good starting hands, and in the first few levels i won several pots and had chipped up to about 22,000 from the 20k starting stack.

as i mentioned, the guys around my side of the table were very friendly, but the guys at the other side of the table.. not so much. in fact, they seemed like bitch asses. one guy was clearly tilting after taking a couple of early hits, and was one of the first people to be eliminated from the tournament. i wasn't letting the surly side of the table faze me in any way, but i started noticing that a certain quiet guy, who seemed to be otherwise playing rather tight, was flat-calling in position every time i opened a pot. i know that pros will try to sniff out weak players and isolate them in big pots, and this guy surely must have heard some of the conversation between me and the other guy from my satellite. i started to wonder if he thought i was just some satellite donk and was targeting me as a weak player, because he seemed absolutely intent on playing big pots with me.

when i open a pot early in a tournament, i generally have a reasonable hand to be doing so (pocket pairs, AJ+), and there were a couple times when i got into pots and ended up laying down very legitimate holdings on the turn and river to this particular player, because of the large amounts he was betting. as i mentioned, he had seemed in general to be playing tight. i don't like playing huge pots early in tournaments (unless i have the nuts obviously) and gave him credit for having monsters. i gave him the benefit of the doubt that he wouldn't just be fucking around and making wacky moves this early in the tournament. but after the second time this happened, and i had to fold in a very large pot on the river after calling off over 5k of my chips on the flop & turn, i started to get suspicious. he wasn't playing that many hands, but he seemed to be in every hand i was playing. i wasn't going to do anything foolish, but this guy was now hardcore on my radar and i was determined not to let him bully me.

not too long after this incident, i picked up JJ in early position. this is obviously a good starting hand, and i was happy for an opportunity to earn some of my chips back. after a solid two hours of chipping up, i was pretty annoyed i'd given up so many chips in that big hand. i made my standard raise, and got a couple of flatters behind me – the last one being the guy i previously mentioned. i smiled inwardly, thinking "yes!! go on and flat this time, you douche. you are not getting me off this one." the flop came 965 with two diamonds. this is a decent flop for JJ with no overcards, but it was definitely a draw-heavy board. rather than lead out and let people just flat call with potential draws, i decided to check with the intention of hopefully making a sizable checkraise. i always want to get value with big pairs, but with that many people in the pot and a slightly scary board, i figured the best option would be to end the hand as soon as possible. checking and allowing it to just check around would be terrible, but i was certain that if one of the other two flatters didn't bet out, that the douche guy would definitely bet if it was checked around to him in position.

and that he did. it checked to him and he bet over 2/3 the size of the pot, around 1600. i raised to 4000, leaving myself a little under 12,000 left in my stack. i watched his reaction, and he was clearly uncomfortable. at that point i wasn't sure what kind of hand to put him on, because my feeling was that he was calling my raises with pretty much any random bullshit and trying to outplay me and muscle me off hands postflop. i did not put him on a set or a made straight, although i knew those were possibilities. he thought for a while, like over a minute a while, and it really did not look like "i'm going to pretend to think for a while" thinking. it looked like he legitimately didn't know what to do. he started counting out the call, and asked me if had one or two blue (5k) chips left. i responded that i had two. he thought for another second or two, and then announced all in.

now, i was really in a quandary. what in fuck was going on? i suspected he was calling with bullshit and betting the flop with his bullshit because it had been checked to him, and that a hefty checkraise would be the end of it. i went into the tank, but i can admit now that it was not a logical or productive tank. EVERYTHING about the situation as i had analyzed it until that point screamed for me to call – the prior flat calling and barreling during every hand i opened, his obvious discomfort at the checkraise, his question about how much i had left. it felt like he did not have a made hand and that he was trying to get me to fold, and he didn't think i could call off all my chips. why would he push all in with a made straight or a set? i obviously had an overpair the way i played it; i would be drawing dead if he had a straight and to two outs if he had a set. he also knew i had over 10k behind me and that i could still fold and leave myself with 50bb at the 100/200 level of the tournament. but did he really think i could fold after committing 4k to the pot?

during the time i was thinking about it – which was probably over two minutes; i apologized to the other guys at the table for taking so long, luckily they were nice about it and no one called the clock – the analytical and rational part of my brain basically talked me out of calling. another factor that influenced me not to call, was that the table was breaking like, right then. during the time i was tanking, a tournament official had come up with chip racks and the new seat assignments. this was a terrible situation, and if i called and was wrong i would be out of the tournament. i could still fold and have a totally reasonable amount of chips, and i wouldn't even be at the same table with that asshole guy for one more hand. i had lost half my starting chips, but it was still way early in tournament. i couldn't afford to be wrong on this one – or so i convinced myself. i folded and the table broke.

when i thought about it later, i realized that it was the biggest mistake i made in that tournament, and maybe one of the biggest mistakes i have ever made in my poker career, given that this was the biggest tournament i have ever played and was an insane opportunity for me. there was just no way that guy was value shoving with a made hand given how the action had gone. i think what he likely had was some kind of combination draw that he didn't want to fold, like an A8 of diamonds. he couldn't just flat my raise on the flop and then not know what to do if he bricked the turn. i think he figured that shoving he had fold equity, but that if i didn't fold he had outs against my hand. he could have had a draw that was actually a slight favorite or about 50/50 against my hand (like a flush draw with two overs – AK, AQ – or a flush draw with a gutshot or an open ender – A8, 34 of diamonds), but i still should have called given the amount i'd already invested in the pot. it would have been an easy fold against anyone else at the table, but against that player, i think i needed to call. and i felt sick to my stomach after folding. although i wasn't capable of thinking it through clearly enough at the time during the tournament, i knew in my gut that i had made the wrong decision.

after i was moved tables i never really recovered or got anything going. i was put at a pretty active table and was card dead like i have never been in my life. i don't think it was folded to me once, because someone was always raising or shoving before it got to me, and i'd look down at J2 or 73 offsuit every hand and could do nothing but fold it. of course in retrospect i identified a couple spots where i could have maybe made steals, and i hate making excuses or blaming it on the cards, but at the time it just seemed hopeless. people were loose, they were raising and then calling shoves – not folding when someone shoved over their raise. i didn't want to bluff all my chips off when i could just wait for a real hand and double up. only, that real hand never came. i sat patiently for hours folding awful hand after awful hand, and blinded down from 30 to 20 to around 10 bb, when i looked at 76 utg. gasp – connected cards! plus, i hadn't played a hand – literally – in about two hours. so i'd shove and obviously everyone would just fold, right? yeah.. that didn't happen. a guy had KK and it held and i was eliminated shortly before the dinner break.

in the ring event i'd played friday, i'd been eliminated at around the same time, just before dinner break, but in that one i wasn't beating myself up about it, because i'd been happy with my decisions. i'd lost a flip to be crippled/eliminated, and unfortunately flips are just sometimes necessary when you are starting to get short. however, i left the main event feeling just plain gross, and only afterward did i realize it was because i didn't go with my instinct in that big hand i described. it is true i was legitimately card dead for the rest of the tournament, but that one hand tainted my mindset and inhibited me from making any creative moves. i didn't trust my read, and that was a fatal mistake. i told myself before the tournament that i was going to play my game and trust my instincts, and i let myself down. even if i had been wrong in that spot, and the guy had had a set or a straight, or a big draw that subsequently got there, i would rather i had gone with my instinct, even if it was dead wrong. but i think it was right.
so that was my main event! i was not satisfied with my play in that one difficult situation, but every experience in poker is a learning experience, and i am going to learn as much as i can from the mistakes i made in lake tahoe. i am getting better and better with my live reads and now it is just a matter of trusting them. overall it was an amazing opportunity to be able to play such a high profile event, and i met a lot of cool people – dealers, players, circuit regulars who i hope i'll be seeing more of. in about a week, i'll be heading back to the east coast for the holidays, and.. i'm planning to make a stop at the circuit event in atlantic city!!! for now i'm just planning to play the ladies event, but anything could happen.. ;)


happy hanukkah, and send me luck!!!

xo, thegroupie