Hey everyone,
I know it's been a while since i last updated this blog; I've actually been working on a catch-up entry that has now become several pages long and that will come sometime soon. Anyway, after my mini-stint in Vegas last year, I went ahead and found a couple of "real" jobs, and I'm now an Adjunct Professor at an east coast university teaching classes for an online undergraduate program. It's a part-time gig which has allowed me to play poker and work on my game basically all the time when I am not teaching, and I have been grinding MTTs steadily on Merge for the last year. I've been doing really well – much better in fact than I ever did on Full Tilt pre-Black Friday. I've won a bunch of tournaments recently and have a lot of confidence in how I'm playing right now. Here are my stats: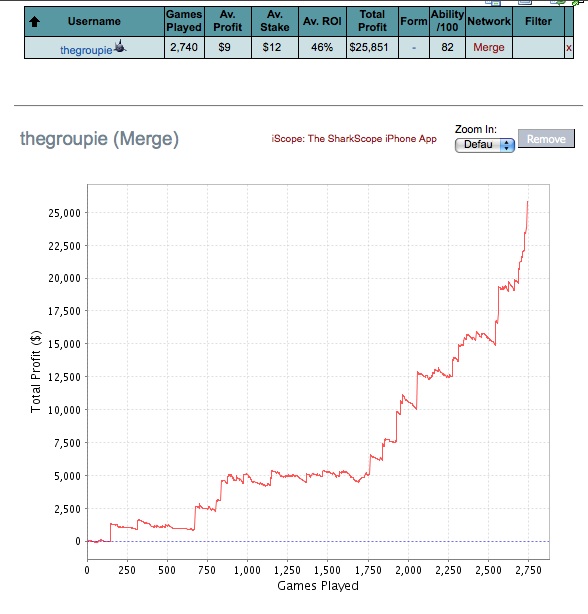 I've only played one live event since last summer, UKIPT Nottingham in April, which I ended up cashing for 1480 UKP (which is like a ton of money in USD) while visiting my boyfriend Mickey Petersen, who is an online pro for Pokerstars. Mickey doesn't coach me or anything, but I do make him talk to me about poker sometimes :)
So I'm heading out to Vegas for a couple weeks, and decided to put together a little summer package for the first time! It includes three ladies events and a few Venetian Deepstacks.
The Schedule:
Sun 6/24/12 – Venetian DSE – $600
Mon 6/25/12 – Caesar's – $240 Ladies Event
Tue 6/26/12 – Venetian DSE – $400 Ladies Event
Wed 6/27/12 – Venetian DSE – $600
Fri 6/29/12 – WSOP – $1000 Ladies Event
Sat 6/30/12 – Venetian DSE – $600 day 1a (or day 1b Sun 7/1/12)
Mon 7/2/12 – Venetian DSE – $600
Total buyins: $4040
Markup: 1.24
Total with markup: $5000 (rounded down)
1% = $50
5% = $250
10% = $500
20% = $1000
I believe I have a significant advantage in these fields, and particularly the ladies events which tend to draw a lot of recreational players. I am selling up to 50% of my action, and will play these tournaments regardless of how much I sell. Anything not played due to overlap or making day 2 of another tournament will of course be refunded with markup.
Mickey has reserved 10% so there is another 40% available.
I can accept the following methods of payment:
Paypal
Pokerstars (to Mickey's account – mement_mori, city London)
Carbon (thegroupie)
Bank wires
Cash in Vegas (over 5% only pls)
Please make sure I confirm before shipping any funds online! If I cash for a lot of money (>5K I think) I will need your info for tax purposes etc or I will have to withhold taxes. Also please note that while Mickey is very graciously allowing me to accept funds to his account on Pokerstars, we won't be able to ship back $ on stars until after August 1 when he returns to London, since he can't make transfers while in the US.
Thanks for checking out my package!! Hoping to make this a great summer :)
-thegroupie