i went to las vegas between june 24 and july 3, and i had an incredible time. i will do my best to document the whole trip!
when i first planned this excursion, i'd been fixing to stay less than a week. i had my room covered for the first three nights, when i'd be partying with my friends from the east coast. i booked another room on my own from june 27-30, and i planned to play three $200-350ish tournaments – there were a variety of events going on at the venetian, rio, and binions. i mentioned a couple entries ago that i was very torn on whether to sell action for a package that would include the $1k WSOP ladies event, and eventually came to the conclusion that i was not going to do that. but – ! – after writing my last entry i went off to the card club for some tequila-fueled birthday antics, and ended up +$1300.. largest single-session score yet! in the two weeks leading up to my vegas trip, i was now up nearly $3000 in live cash games, and feeling great about poker.
thanks to this little pad to my bankroll, and some mentorly encouragement from mentor shane and a couple of other pro friends, i decided i was going to go for it – i was going to stay for the ladies event on july 1! playing a WSOP event this year has been a goal of mine ever since i got a brief look at the scene when i hit up vegas last year, and it just seemed ridiculous to go there and NOT play the one tournament that i wanted to play the most. it would still have been inadvisable to buy into a $1k tournament myself, but i had a couple friends who'd expressed interest in buying pieces if i decided to play that event. i felt reasonably confident that i could sell enough action to people who i knew and trusted, and could avoid dealing with internet randos and sleazebags. i extended my reservations in vegas and booked a room at the rio through july 3. off we were!
june 24 – 26 : birthday bash
although one of my motivations (er.. justifications) for going to vegas was to celebrate my own birthday, the party was not orchestrated for me, but a friend's step-mom. the family is very wealthy and organized a lavish weekend-long birthday blowout in vegas, and i was lucky enough to be invited and partake in the abundance. when i arrived at mccarren airport in the early evening, i met up with my friend nadia who had flown in around the same time, and we found that a car service had been arranged to pick us up! i come from a family of coupon-cutters and discount-outlet bargain hunters, so it was cool to experience some ridiculous rich-people shit. first time i've had a driver holding a sign with my name at the airport, pretty cool.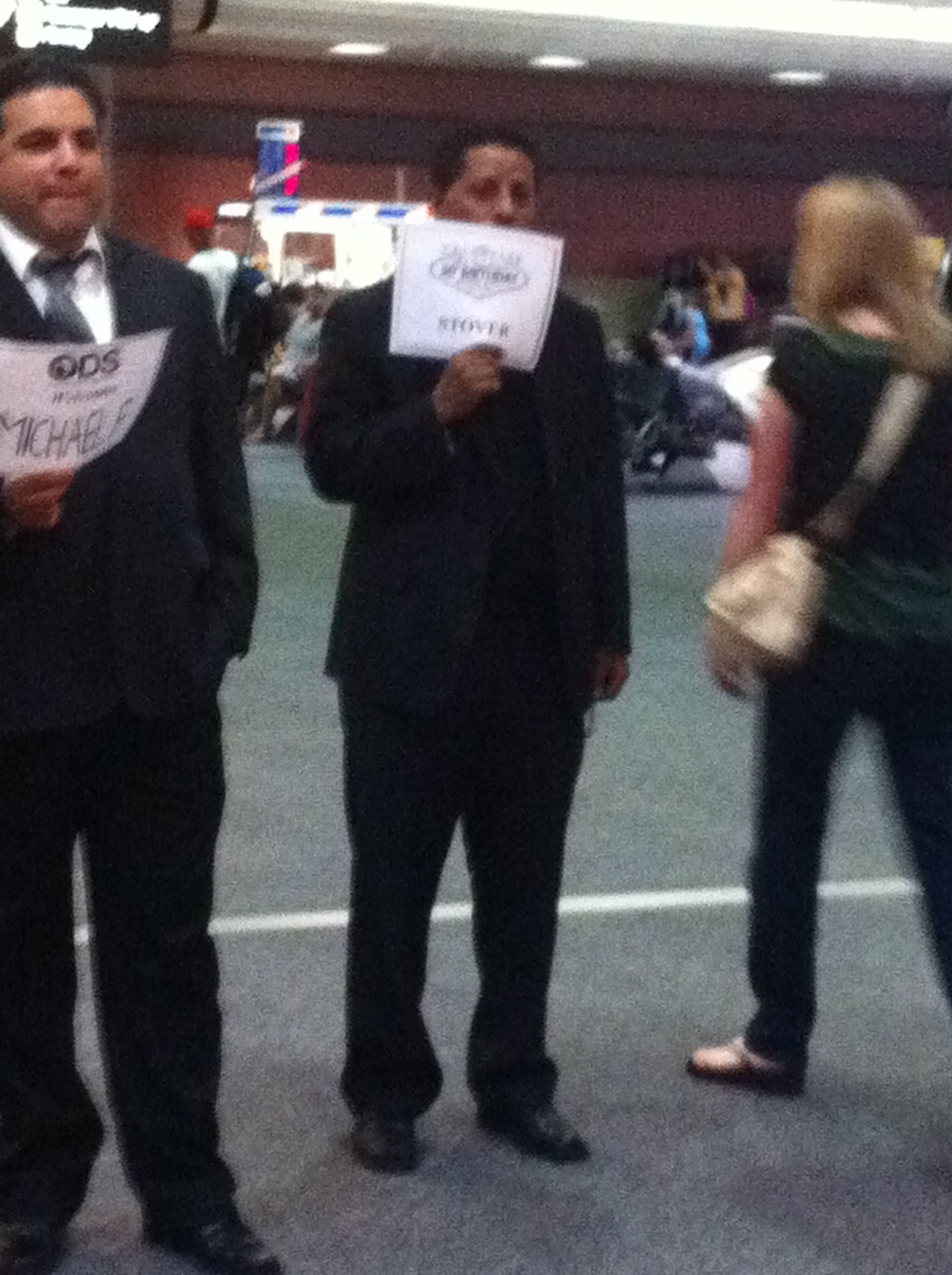 our first item on the agenda was a dinner party at SW steakhouse at the wynn. me & nadia outside on the patio: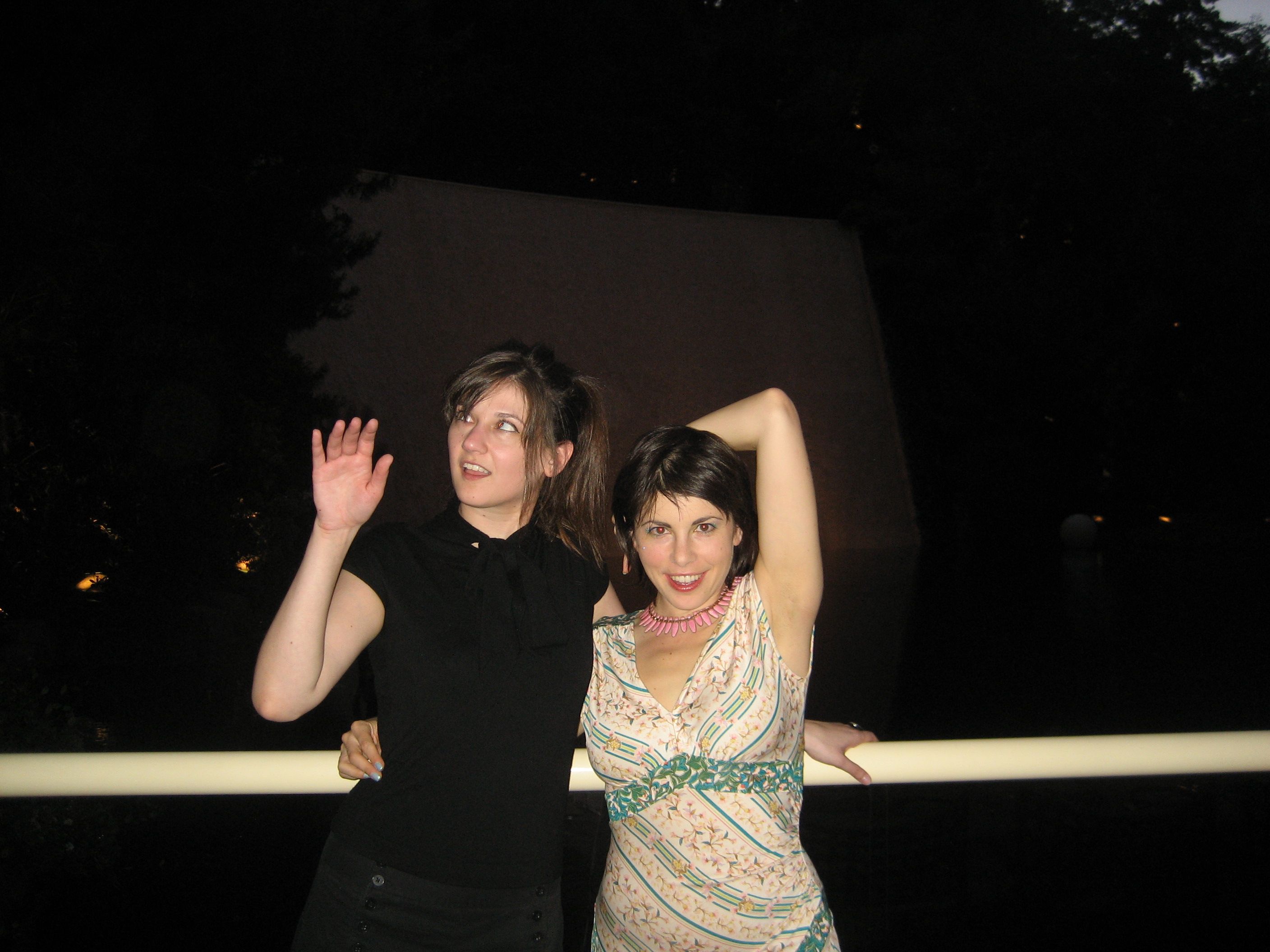 we were standing in front of this lagoon/waterfall thing, which later featured a gigantic animated robot frog that sang old crooner songs. it was awesome in that "wtf is this"/" errr seriously.. WTF?!?"/"only in vegas" kind of way.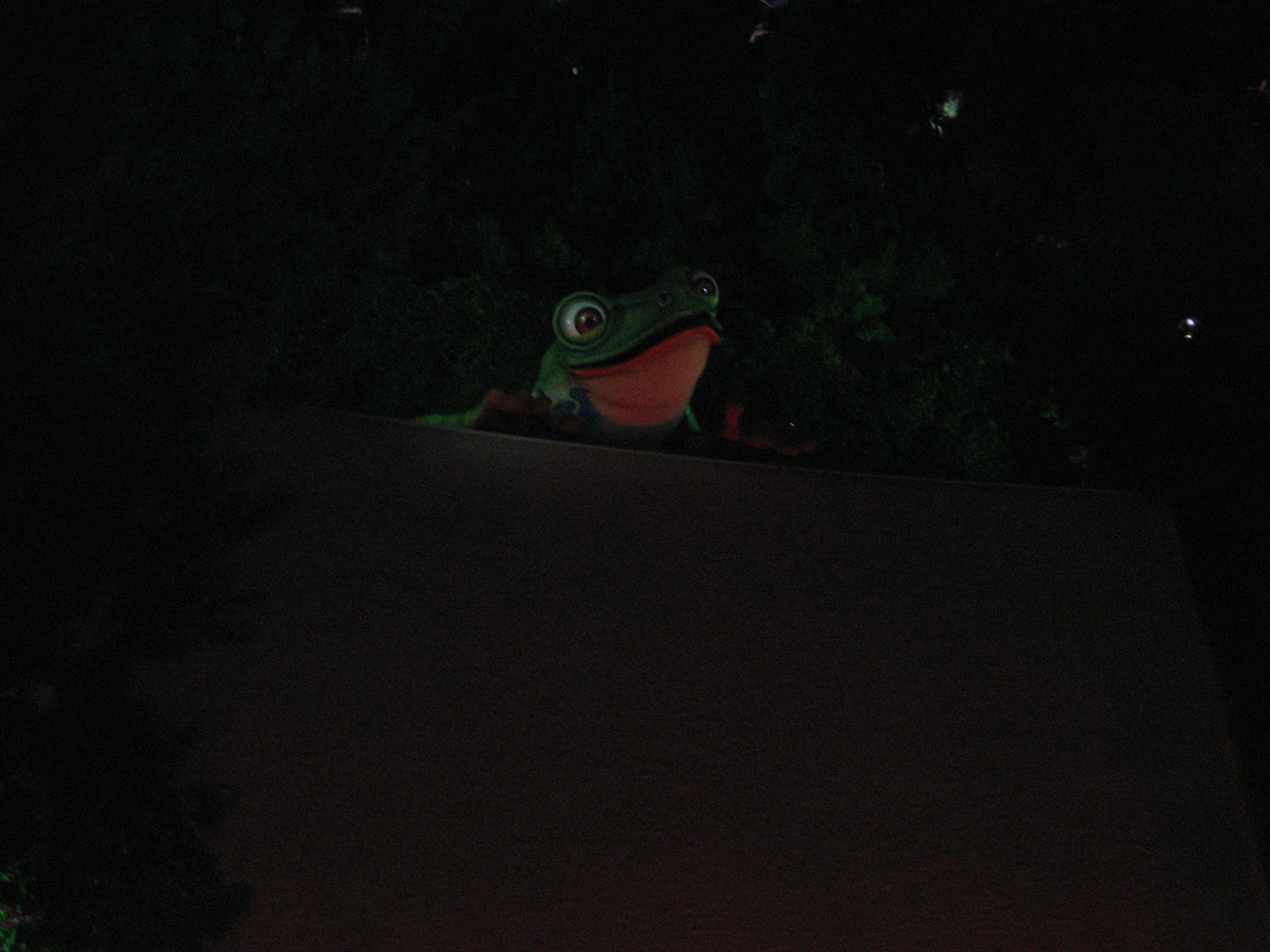 there was of course champagne. a lot of very good champagne!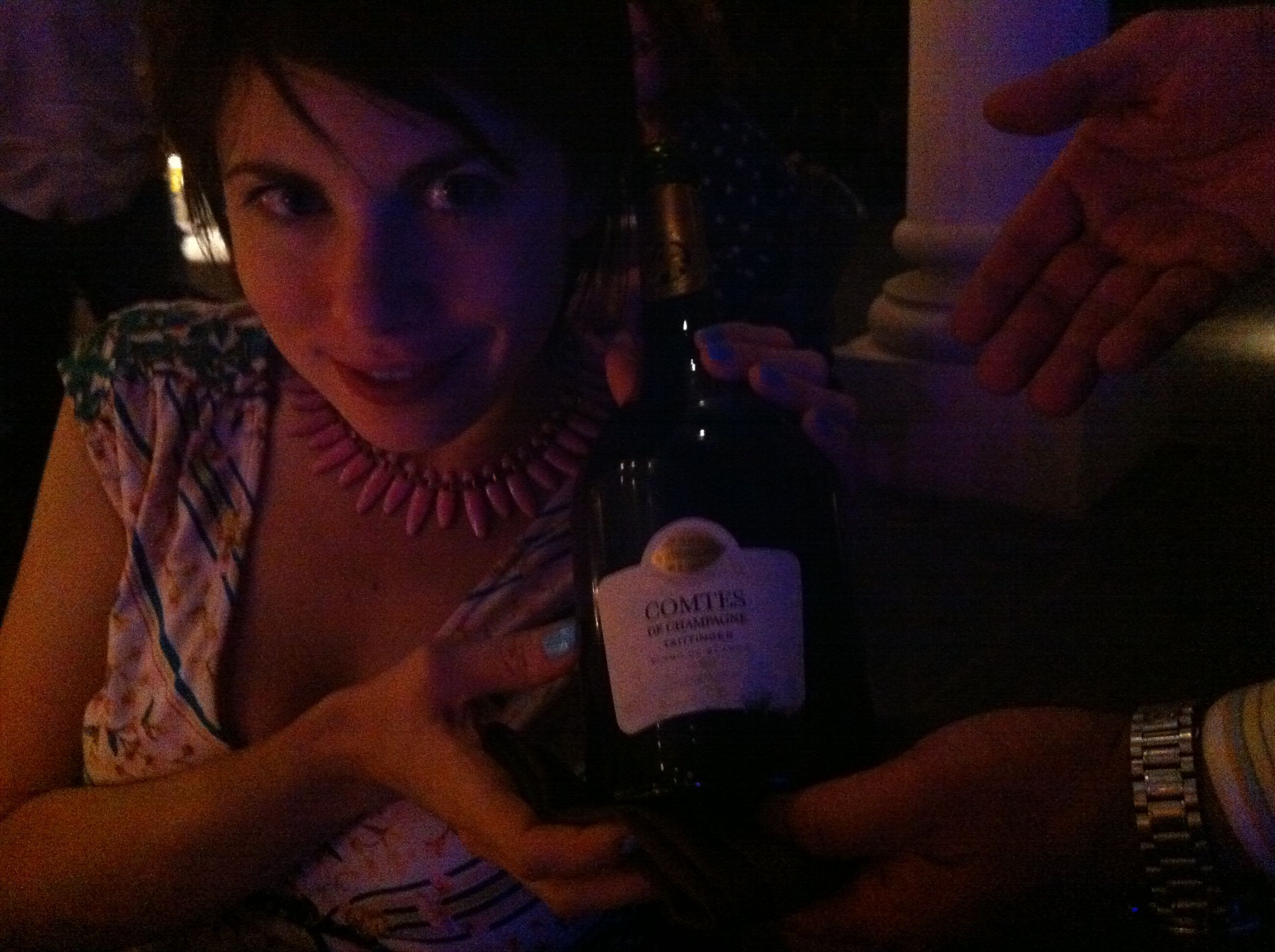 i have a weird relationship with red meat. i don't eat it much, but i will have a steak once every 4-6 months or so, and it will be fucking amazing. this one did not disappoint: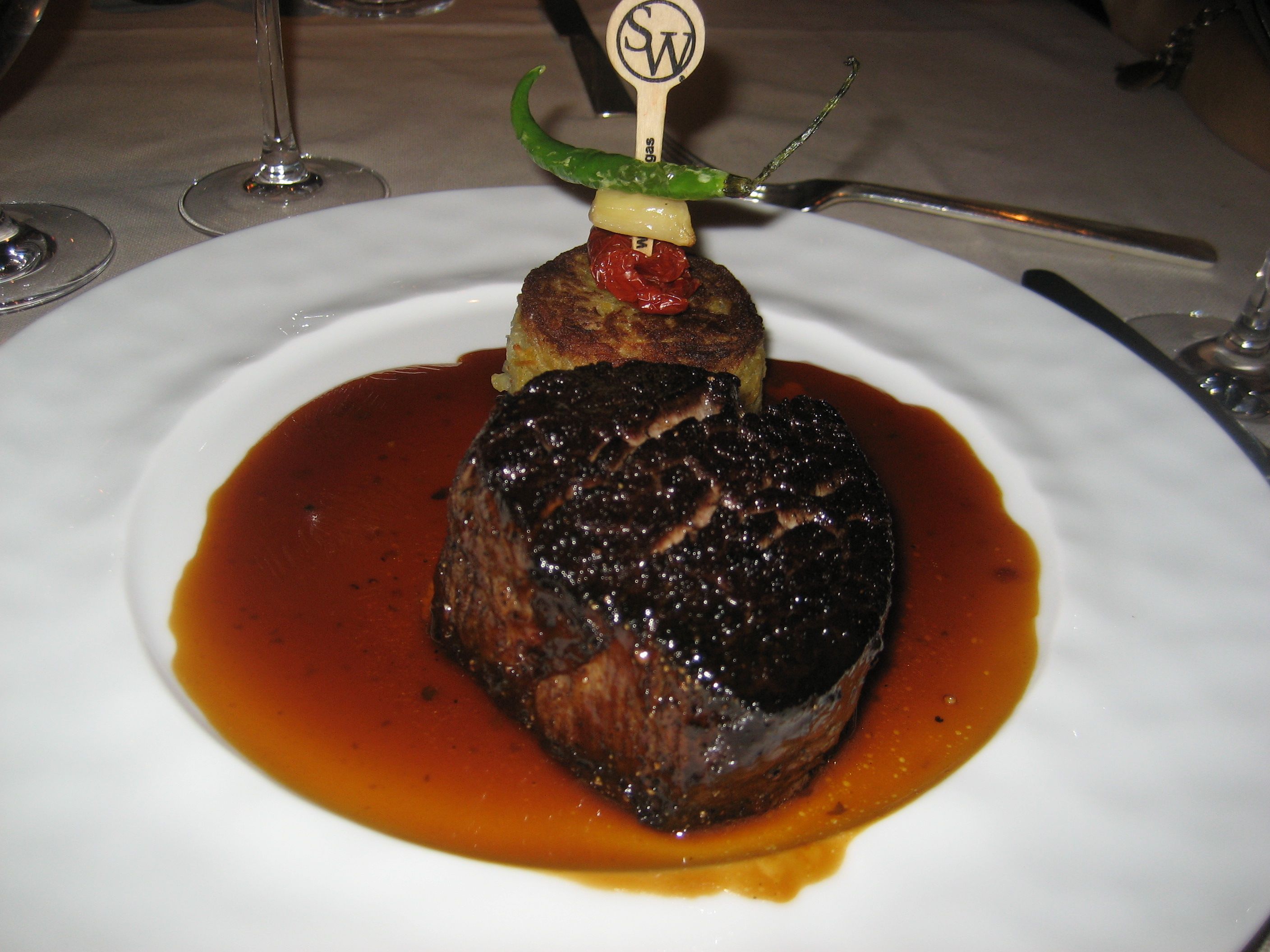 my friends were jetlagged and decided to call it a night after dinner, so i went to check out what was happening in the wynn poker room. i was surprised when i found it was rather small and quiet; for some reason i'd envisioned a boisterous high-roller kind of environment. it was around midnight on a friday and it took a while to get my $1/3 seat, which was part of a new table they opened up. as soon as i got to the table i knew it wasn't going to be a good one – all young males who seemed like solid players ready to grind. one guy already had earphones on and his nose in some poker magazine. no tourists, drunk people, short-buyers, or anyone who looked fishy. i probably should have table changed, but the guy next to me was cute and i was pretty buzzed from several hours of unlimited wine and champagne. i donated a buy-in to the table before i wisely called it a night :P
the next day we hung around for most of the day in a set of cabanas that had been reserved at the encore beach club.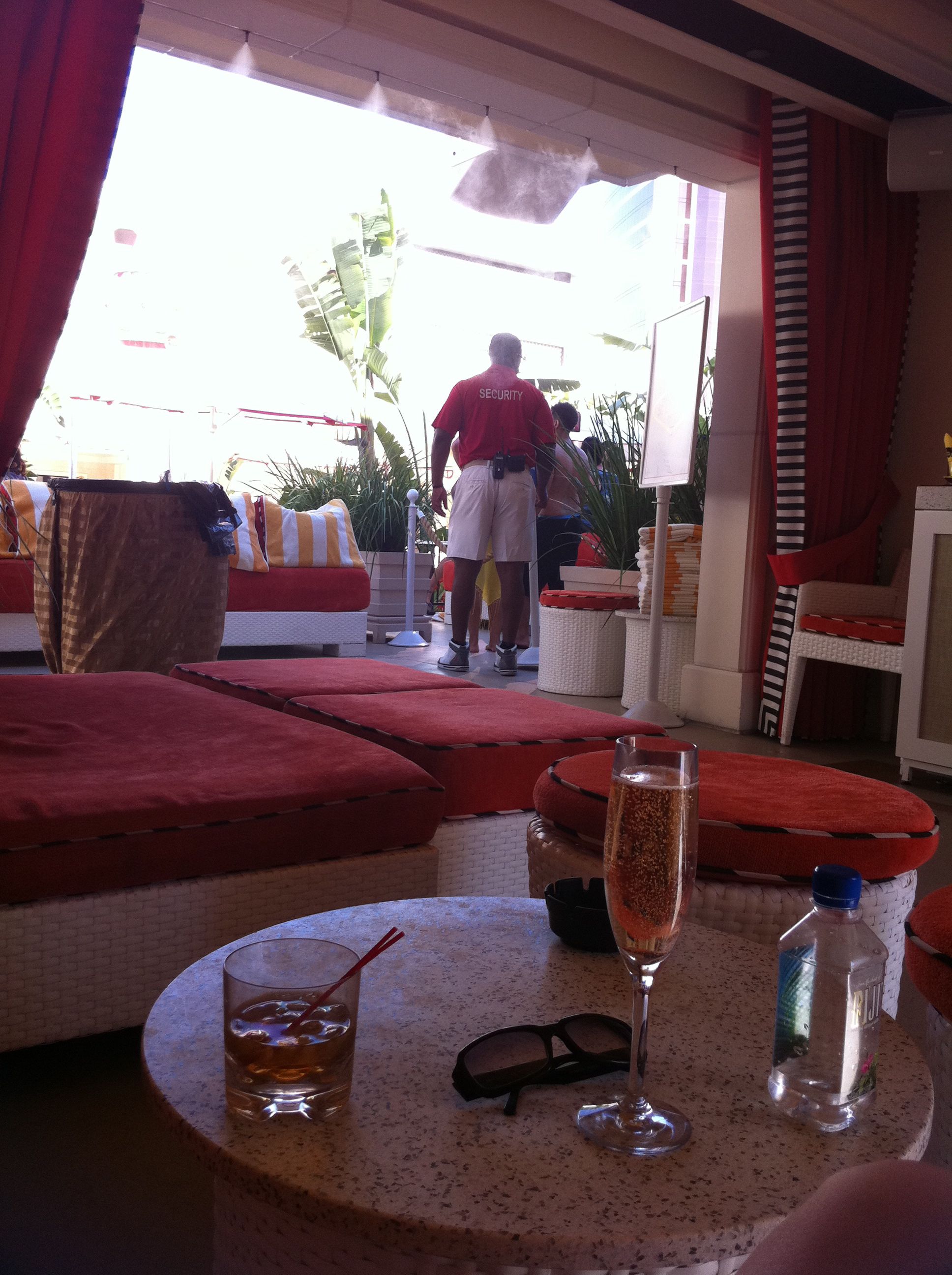 drinking champagne in the pool is always decadent!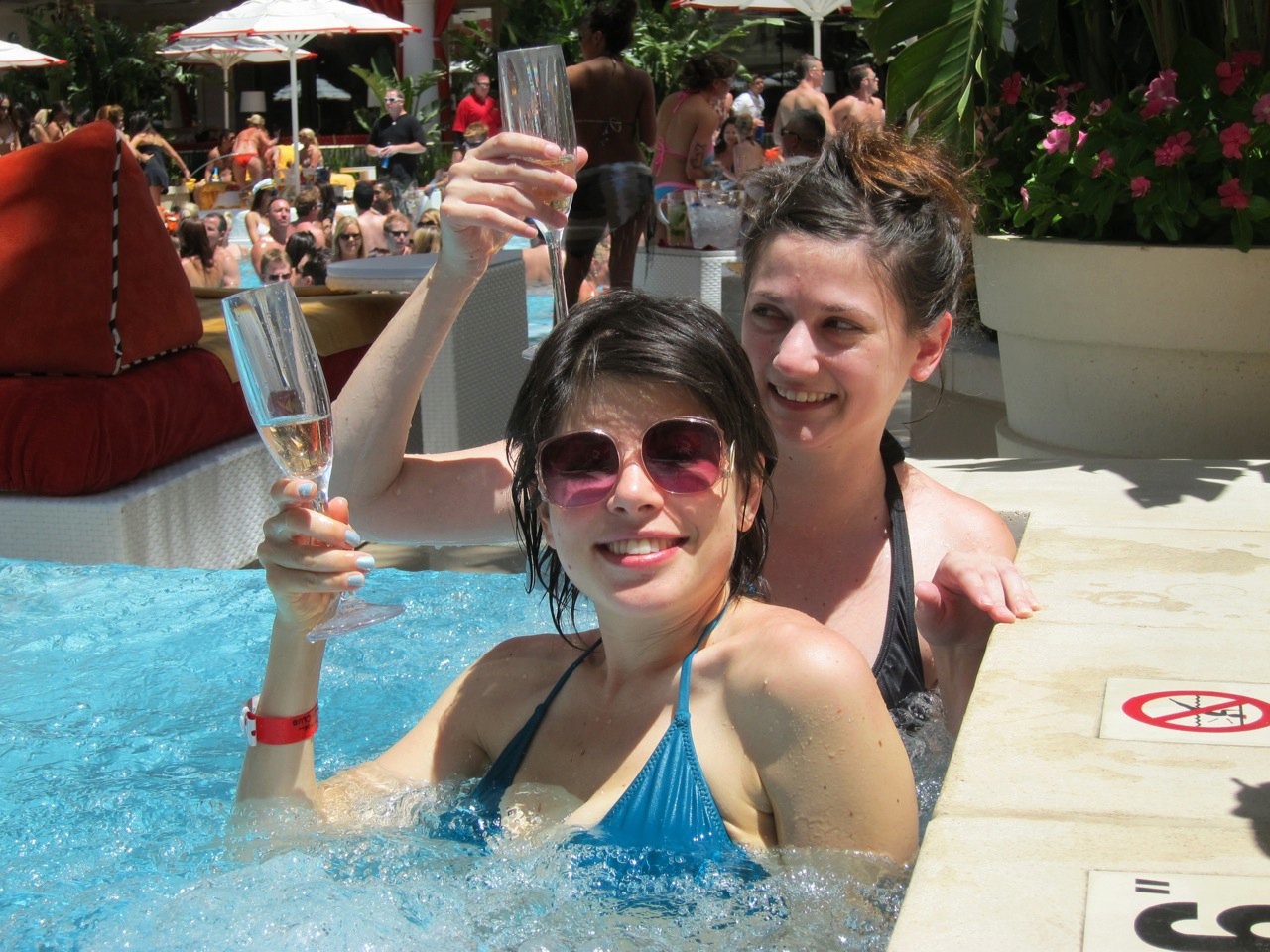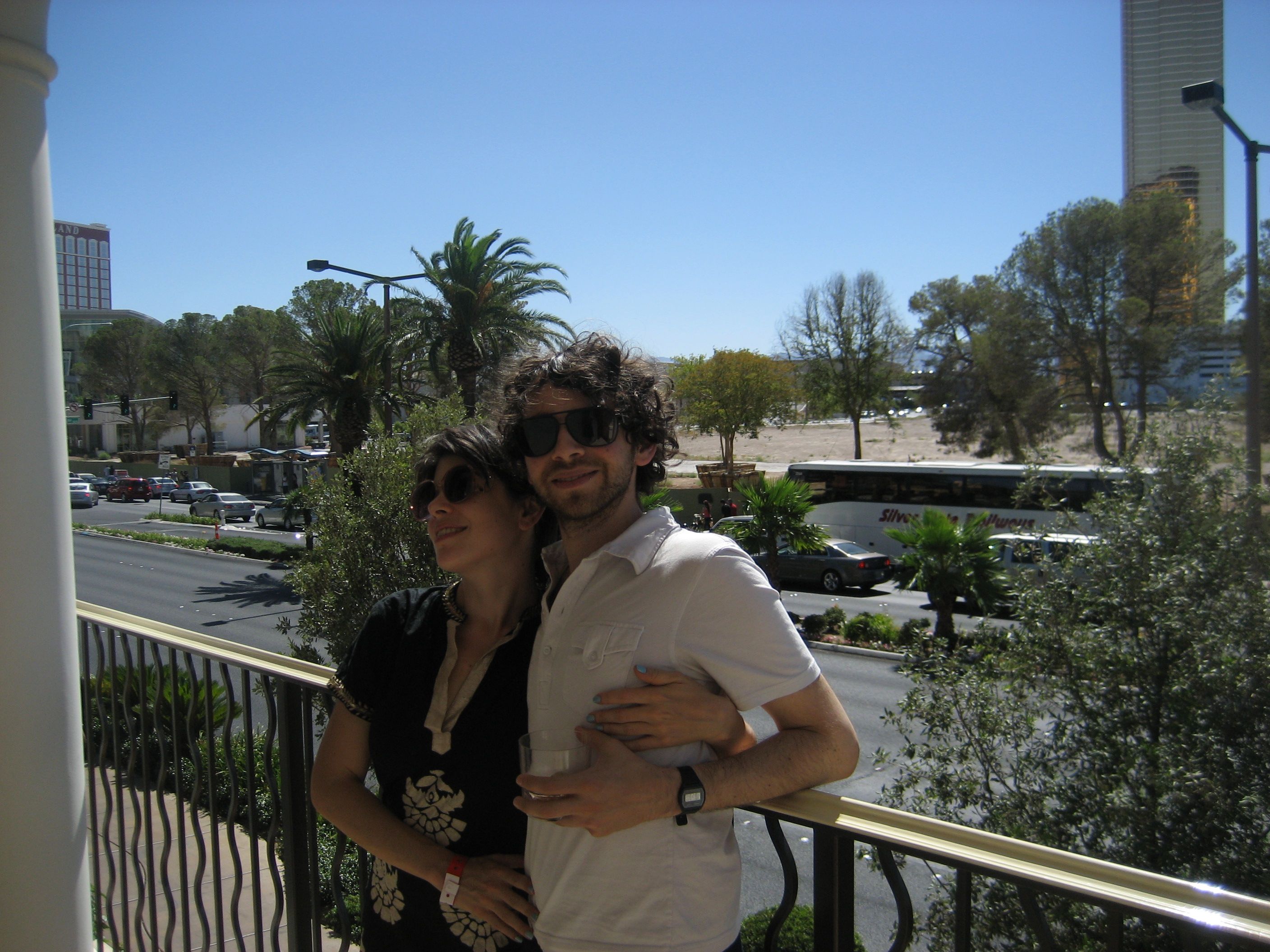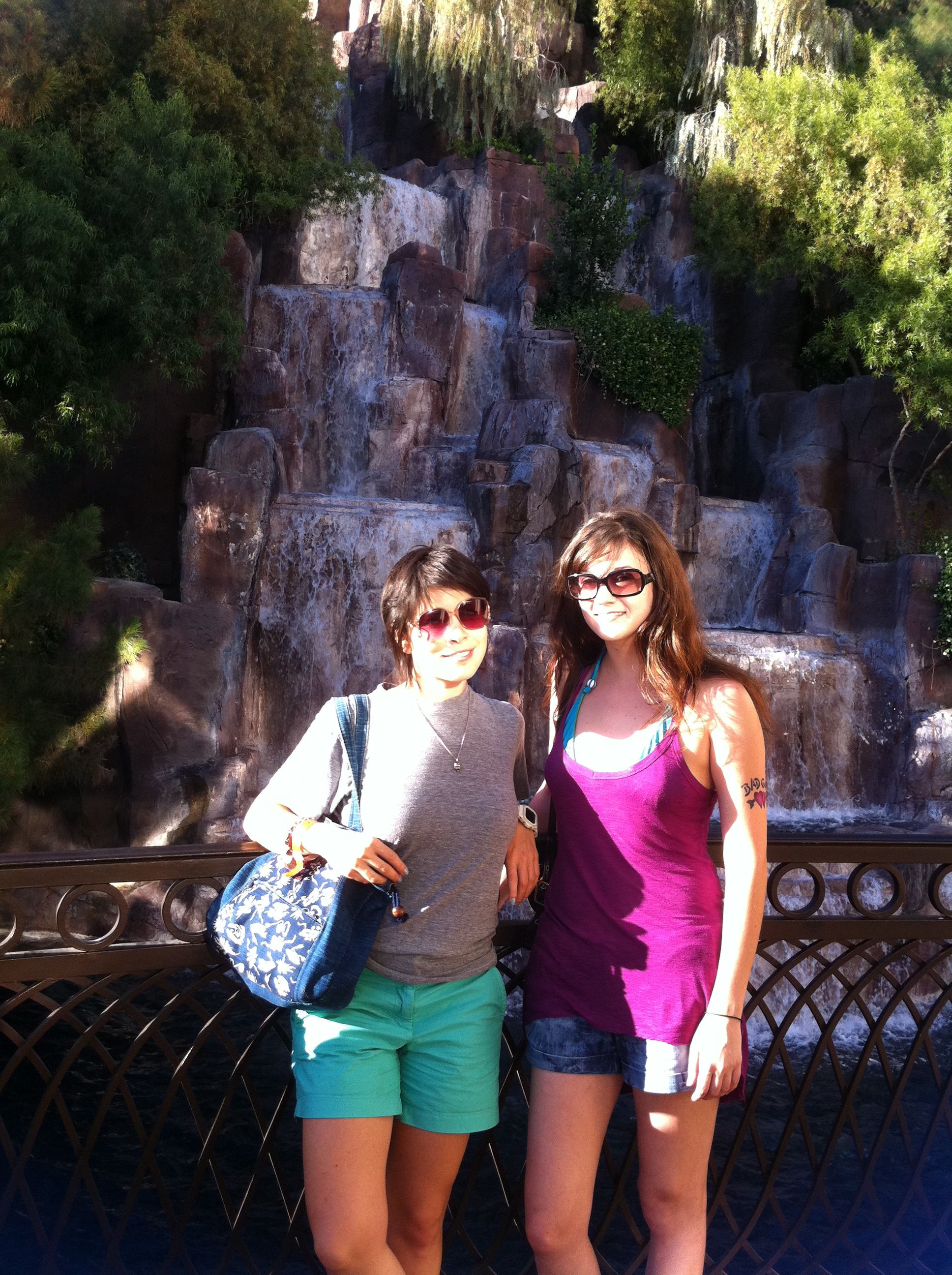 at night there was a huge ridiculous party at a private ballroom in the wynn, complete with everything from a karaoke room and temporary tattoo artists, to a red hot chili peppers cover band (yes rly), go-go dancers, and of course lots of great food and drinks.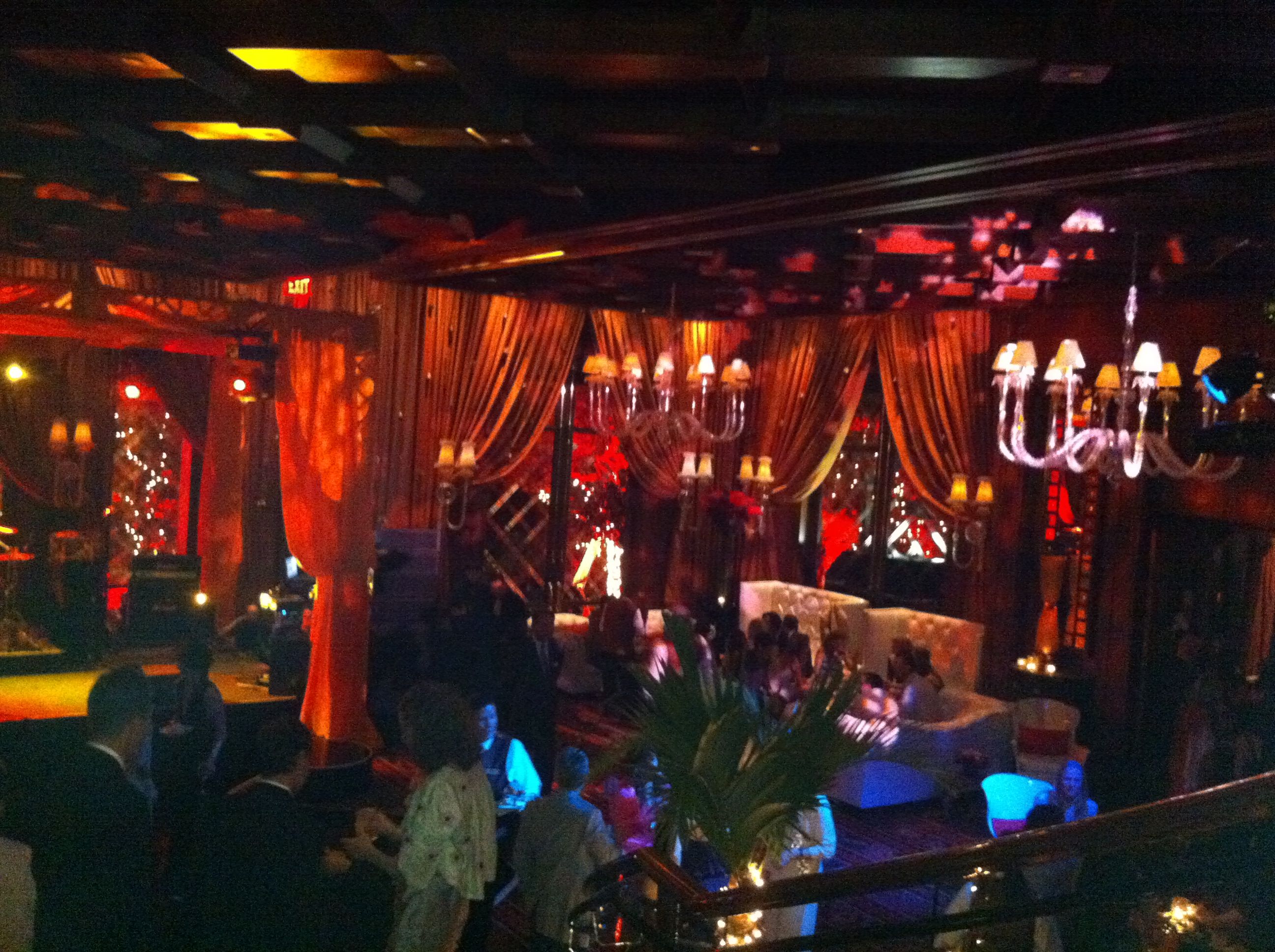 and cat masks.. obv
i believe we are in the midst of a very horrible rendition of "hungry like the wolf" here.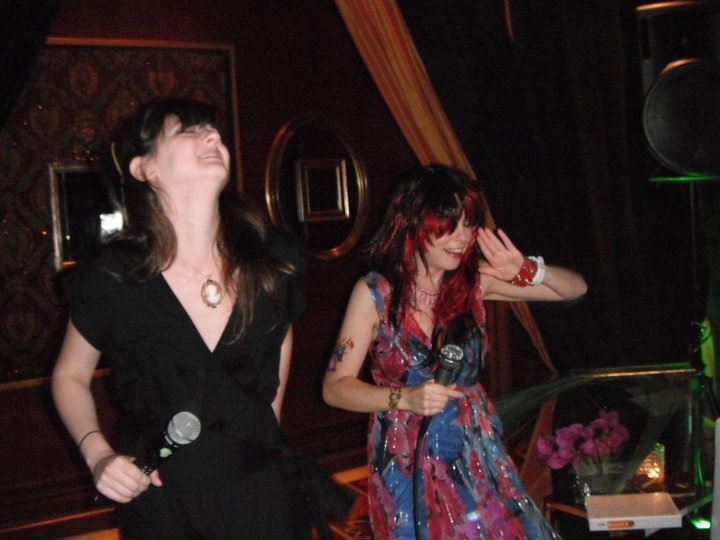 show me the way to the next whiskey bar….
the dance party lasted through the wee hours of the morning.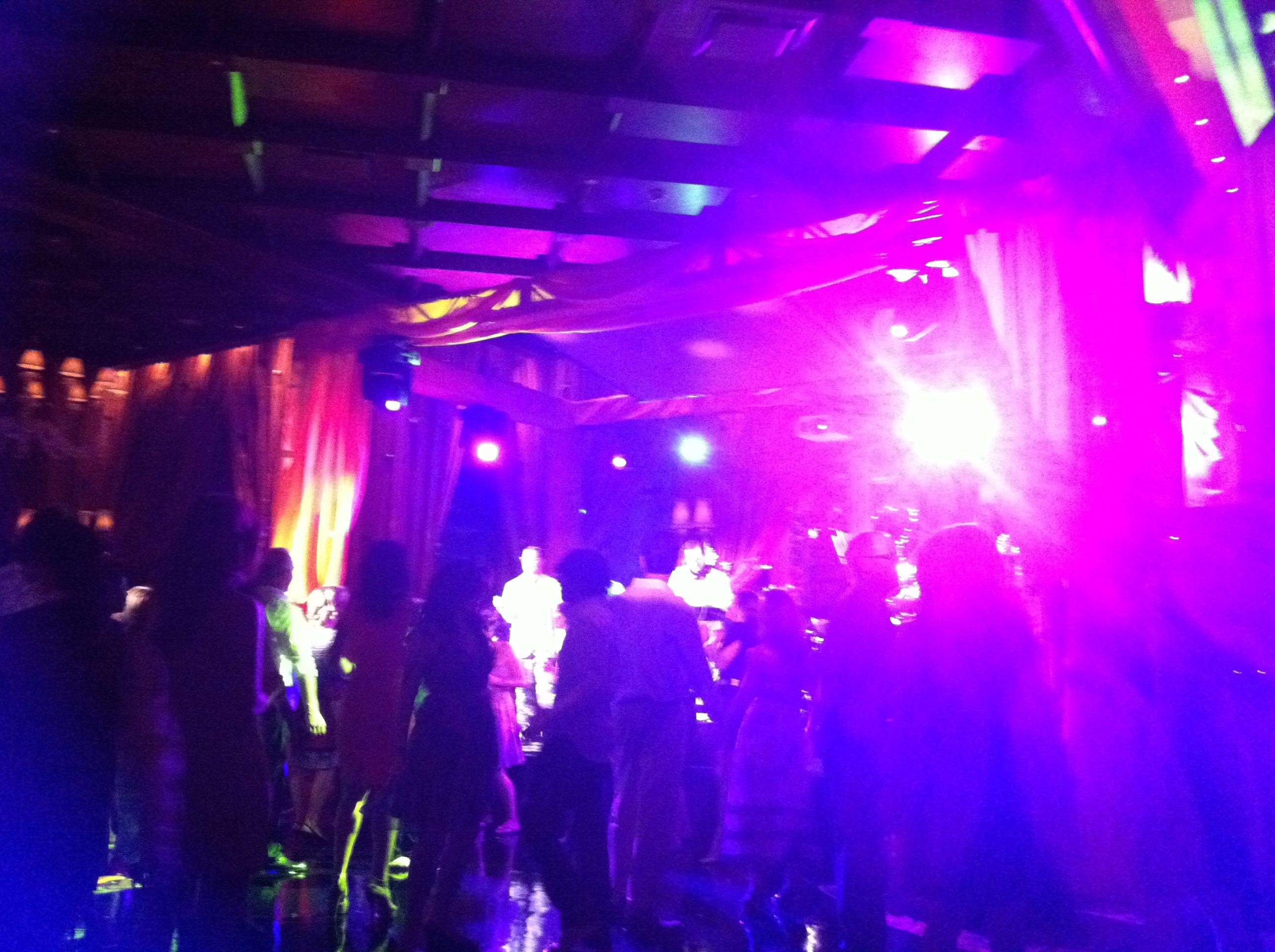 so that was all super crazy fun, and i was happy to get some vegas debauchery in before it was time to get to work!
monday, june 27 : poker begins!
partying is great, but i was excited to get down to business and start playing some tournaments. i'd been thinking about playing the ladies event at binion's, but decided it would be more fun to head over to the rio where all the action was going on!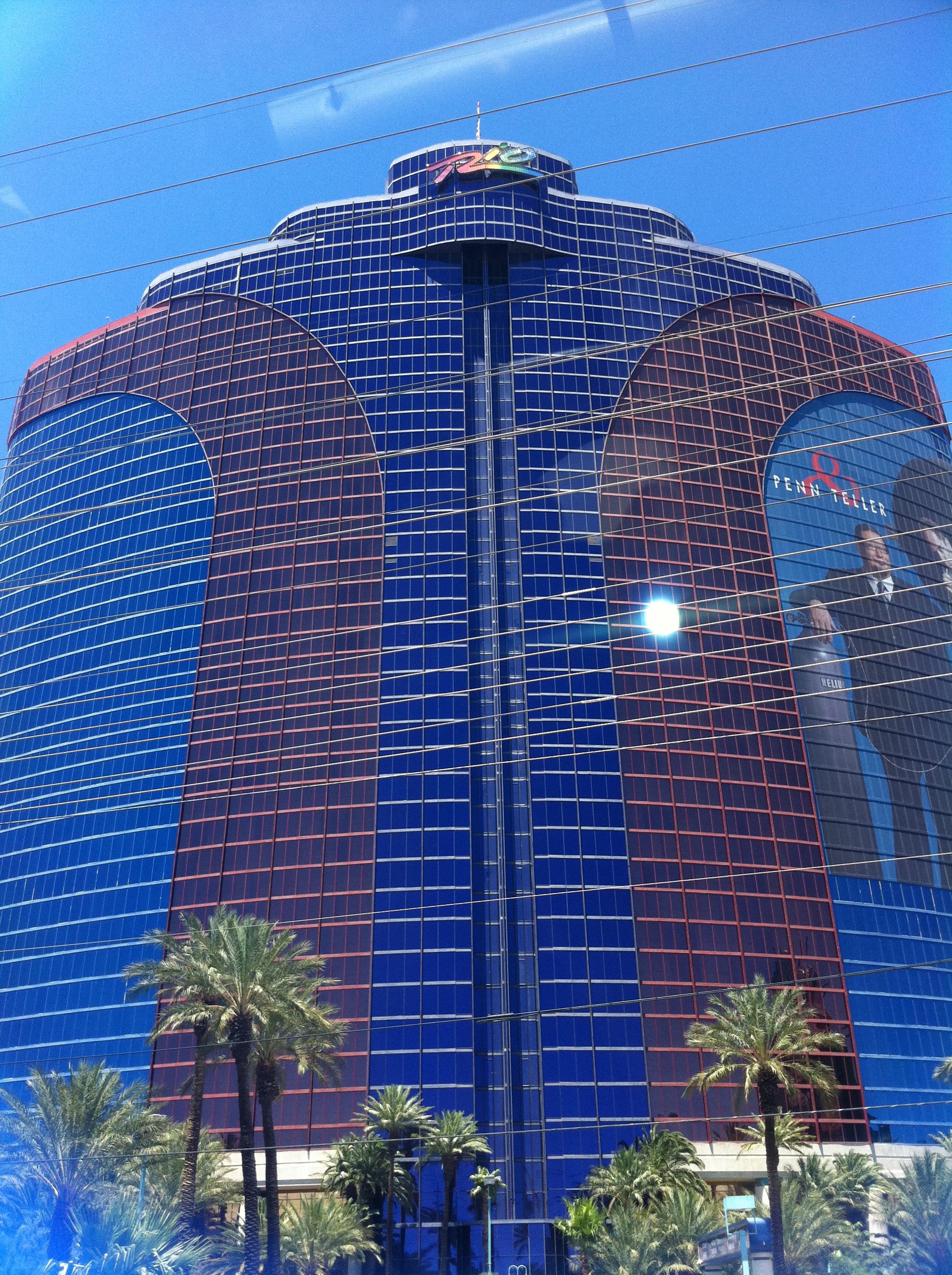 i registered for the $235 deepstack tournament at 2pm. these were running daily and had a decent enough structure, at least in the early levels. starting stack of 15,000 chips.. my first stack of official WSOP chips of the summer :)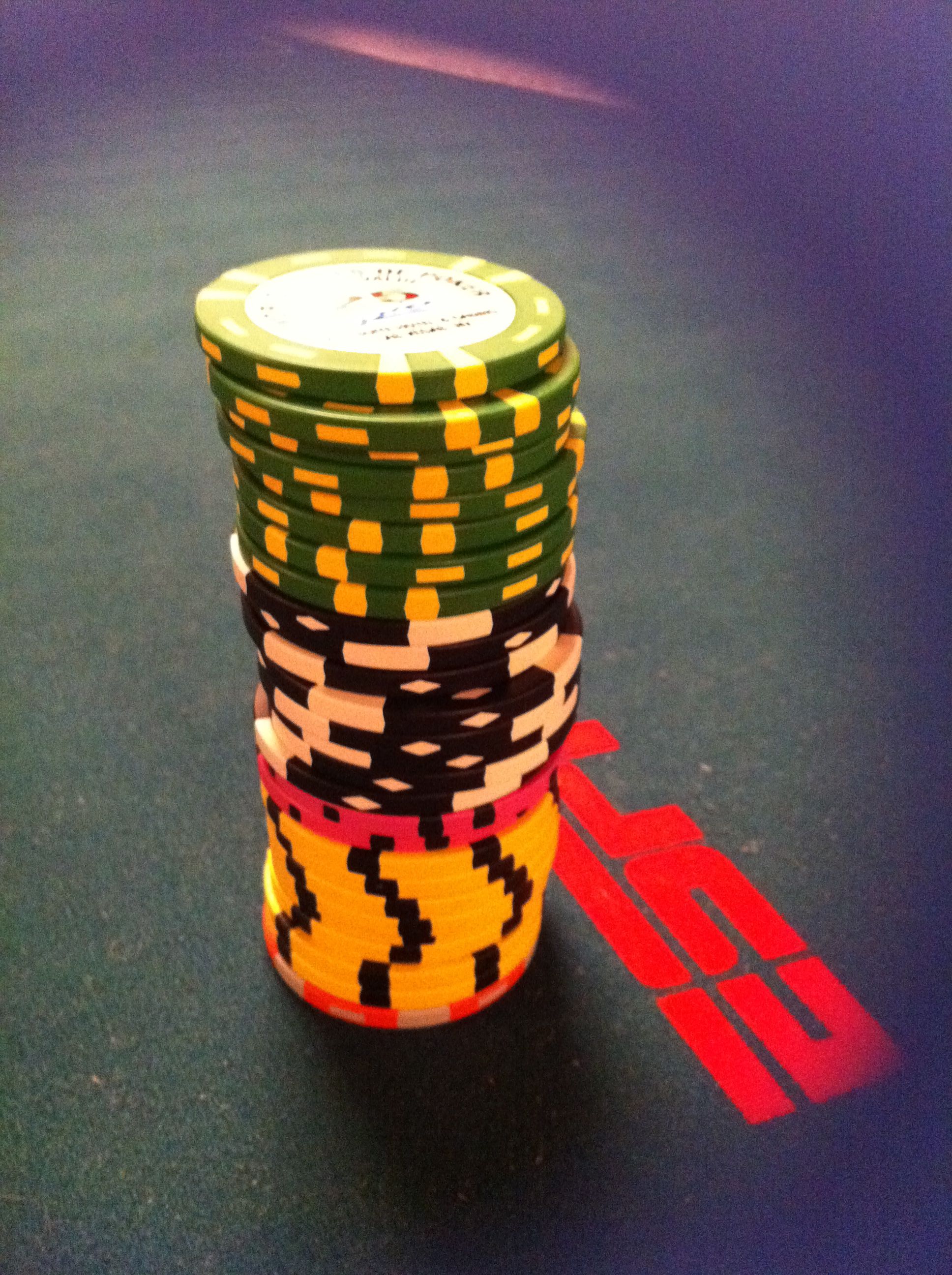 i was a little nervous at the beginning of this tournament. it was my first time playing at the rio, and it was slighly intimidating taking my seat in the giant bustling amazon room. i had heard that the fields in these dailies were soft, but my starting table seemed rather solid, which was kind of annoying. what was with all these capable opponents i was running into?! two guys next to me immediately started talking black friday/internet stuff, and once play started there didn't seem to be anyone playing obviously weak or bad. one guy, however, was a little spazzy and liked to bluff people and show it, and i ended up busting in a hand with him just before the first break. i had KJ on a K55 board in a limped pot, and i probably normally wouldn't go broke there, but my opponent seemed like the type who might enjoy going a little apeshit on a paired board. i was last to act during the multi-way hand and i bet after it was checked around to me, and spaz guy checkraised it. when it folded back to me i studied him a little and started a bit of my trying-to-get-a-read line of questioning – "you really have that 5, huh?" dude gave me a very chatty "i'm in the big blind, of course i have the 5. you should fold. save your money" speech. it wasn't that i thought i had a sick read that he absolutely didn't have the 5, but i did know that this particular opponent could have a lot of bluffs in his range, and i also thought that given i'd bet when it was checked around to me in position, he could potentially be going for a checkraise with a weaker K or maybe even a random small pocket pair. anyway, the reverse-reverse spiel worked and he had it, oh well!
as i was getting up one of the other players asked if i was going to re-enter, which i wasn't aware that you could do. players could in fact re-register and hop back in with the starting stack at any time before the end of the first break! i thought about it, as with 15k i'd have 37.5bb going to the 200/400 level after the break, but i was feeling sheepish and annoyed with myself for not finding a fold in that last hand. i decided not to re-enter, and just chill and hang around the rio for the afternoon. the 10k 6-max event was going on, so i went to rail shane & my new friend (and recent bracelet winner!) andy frankenberger with my trusty vegas tour guide (and recent HPT champ!) veerob. rob's friend lon liked my glasses (upside down).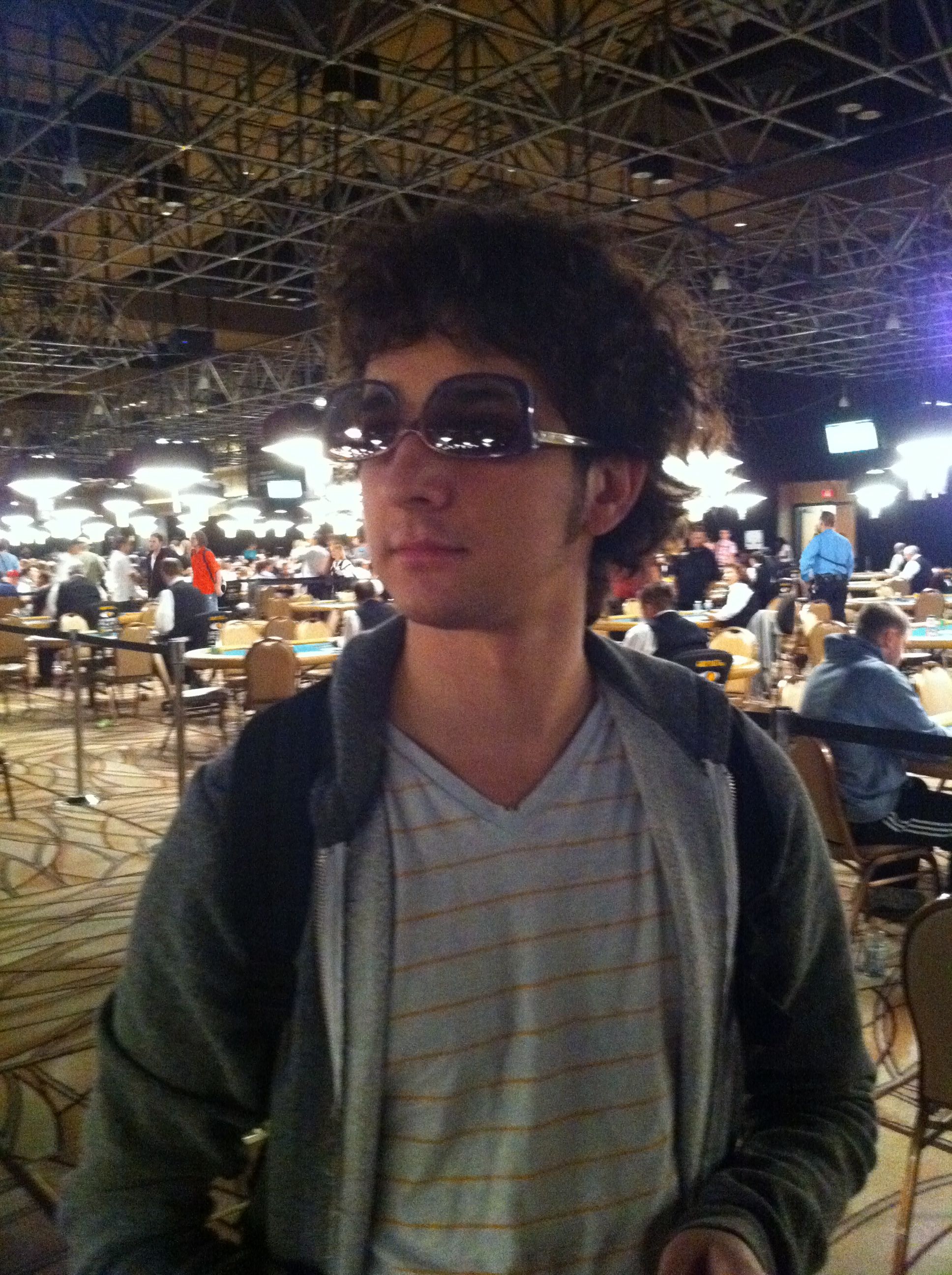 yes, i wear sunglasses when i play poker. yes, i'm an asshole. when i first started playing live i think it did make me feel more comfortable, since i was afraid of giving off tells. after playing live for around a year now, i feel pretty confident i am not giving away information with my eye movements or facial expressions, but i still do wear my sunglasses – mostly because it is convenient! they are prescription and i can't wear contacts for long periods of time because my eyes get super dry. and my regular eyeglasses are too dorky and not badass-looking enough for poker. so there you have it. i know some people think it's super douchy to wear sunglasses at the table, and some people DO wear super douchy looking sunglasses, but i like mine okay.
anyway! at the rio i also met a bunch of cool poker media peeps i've been following for awhile, including f-train, jay newnum, and michele lewis! my friend mariko from LA was in town and she came to meet me at the rio. we did some railing and hanging out. mariko and lon had similar shoes, which i thought was cute: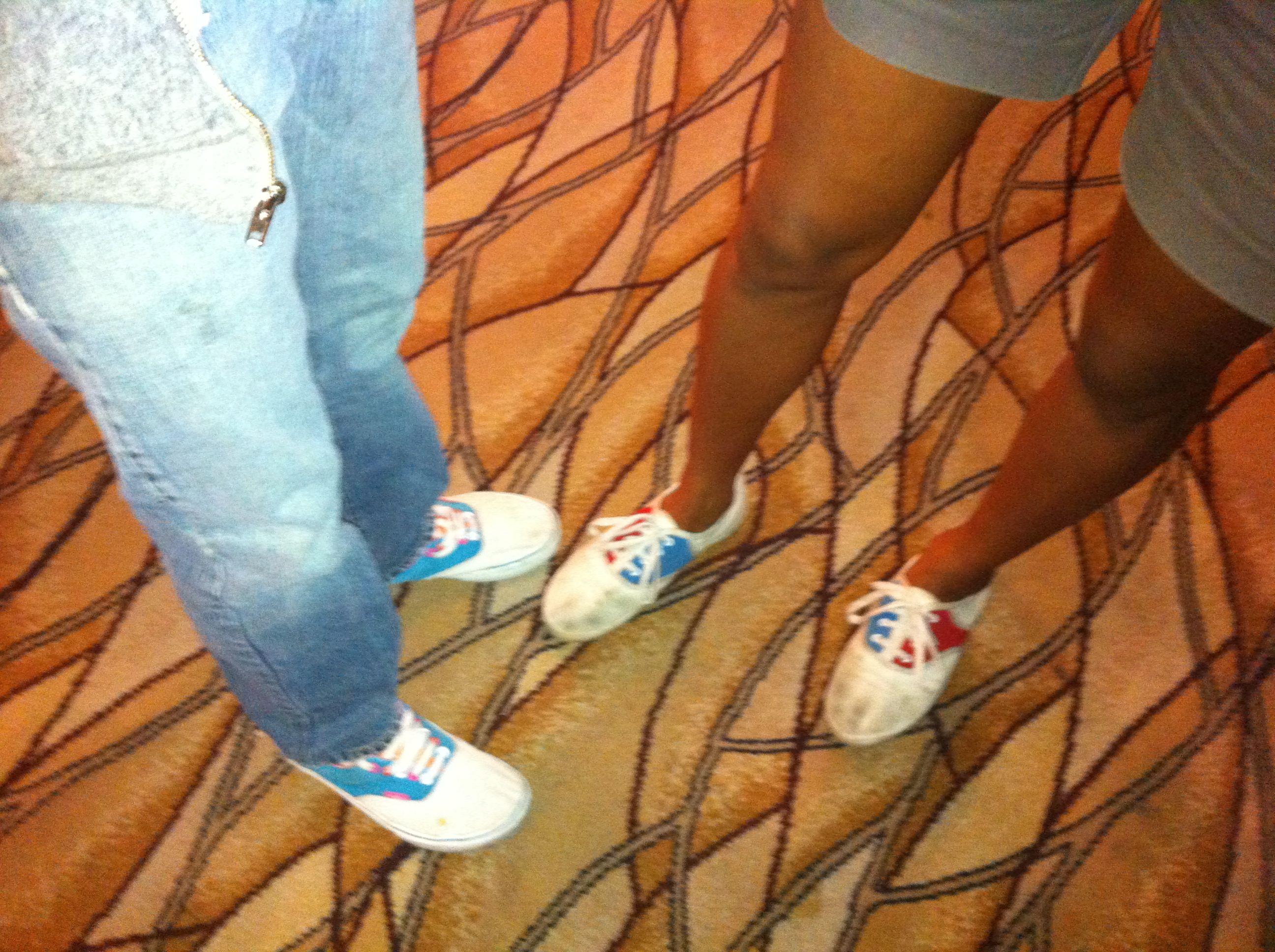 we did some more railbirding and then called it a night!!
tuesday, june 28 : venetian deepstack
i was super excited to play my first $350 venetian deepstack. i like the layout and vibe of the venetian poker room and tournament area, and i felt the structure was better than the rio deepstack structure. once play started i found i also had a much better starting table than i had at the rio the day before. there were a couple of very spewy guys at the table, including a german guy on my direct right who was playing almost every hand, and had amassed a ginormous stack by using the strategy of Never Folding Ever. i was comfortable at this table and felt i had good reads on most of the players, and was ready to take advantage of spots. however, i got into a couple really annoying hands where i had to fold after putting in a lot of chips, and to add insult to injury my beautiful table broke just as i'd been knocked down to around 20bb.
though i was displeased about my spewtastic table breaking, it was a pleasant surprise to find new friend lon at my new table. it was a pretty good table as well and i lasted a couple more levels chipping up and maintaining my stack, but eventually got in reshipping 20ish bb with AQ over a supremely bad player's opening raise. he called with KJ and got there :\ as it happened, new friend lon busted shortly after i did, and we went out to the pool area, where there happened to be $10 blackjack tables. we decided to sit with $100 apiece and play some just for kicks. when i'd been hanging with the birthday party crew over the weekend, we'd had a few conversations with a guy who was a professional blackjack player and had written two books on it, so i was semi-apprised of appropriate blackjack strategy. blackjack is still a luck game more than a skill game, but for some reason lon and i crushed the shit out of it, and within an hour we had each doubled our buy-in and made $100 in profit. how about that?!
i can see how people get addicted to (or at least, tempted by) luck-based pit games. it's no work, all you have to do is hit that card you need or roll the right number, and you double your money for basically zero effort. in a cash game it could take hours to double your buy-in; in a tournament, it could take days. when you win money in casino games, it feels stupidly easy and fun compared to poker. we bounced around the casino floor at the venetian all afternoon and played some craps and roulette, and surprisingly broke even on those games. but got free drinks the whole time which is cool. we even fucked around at some $4/8 HORSE for a bit. though i'd recently attended a $.50/1 mixed-game home game, and though i've sat a few times at the omaha-8 table at my local card club, i'd never played HORSE in a casino before, so that was another new experience for me. i pretty much suck at all stud games and hate them (though for some reason i hate razz less than the other two), and spewed a bunch before getting back to even when i scooped a big 3-way pot in trusty old omaha-8.
i also got a chance to take a spin at the limit hold-em heads up machine, which turned out to be boatloads of fun. i was skeptical at first as i find limit HE pretty tedious and and i'm not that familiar with the strategy (especially for preflop heads-up action – i.e. what ranges to raise, call, 3-bet; when to fold, if ever). postflop i felt pretty good about my decision making, since it mostly revolves around looking at your pot odds just as in no limit. i believe the machine employs a few different types of strategies or "personalities" and switches between them at random, and we definitely caught him in monkey mode. he loved to checkraise with complete air – i'd say probably c/r'ed over 50% of flops from out of position. it was impossible to make him fold at any point before the turn without putting in 3 or 4 bets; i don't think he folded one flop, and would bluff raise frequently, and even called me down once with K hi on the river. one cool feature was that you could always press a button to see the machine's cards at the end of a hand, even if you had folded, so you never felt obligated to call bets solely for information. overall i think we won around $20 playing at .25/.50. i found it really entertaining to play against a bot, especially with the ridiculous and tricky (but often spewy!) plays it was making. i would love it if they could get these machines in california card rooms!
to be continued..
so last night i think i fucked up and accidentally hit "publish" on this too soon, and since it's getting long i think i'm gonna go ahead and put it up now, and post another entry for the remainder of my trip june 29 – july 3. part II will include: the venetian ladies event, the WSOP ladies event, assorted rio & palms adventures, and very likely a lot more name-dropping because i met way too many cool people. stay tuned!!!